Precautions
Please read all safety precautions and operating instructions before starting to assemble and using the robot. To avoid personal injury or property damage.
⚠ When taking out the robot parts from the box, please take and keep them carefully after picking up, so as to avoid the loss or damage of the robot joints.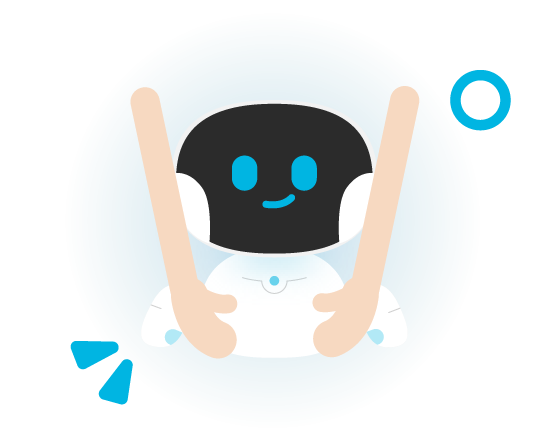 Please hold the robot with both hands!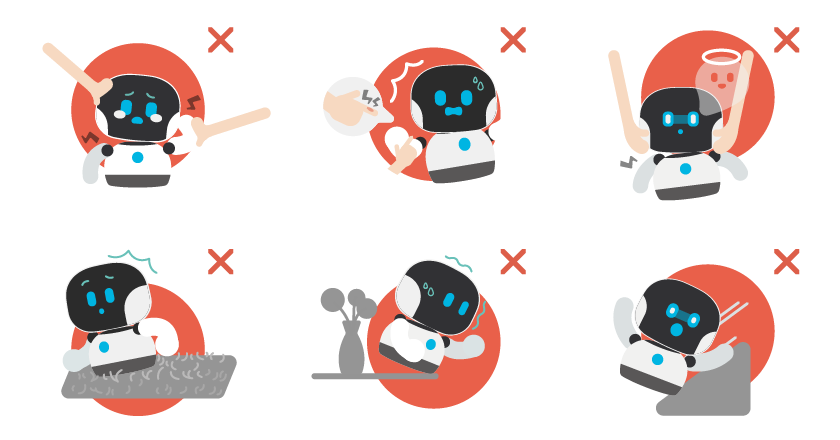 Children should use the robot only under adult supervision.
Clear the area surrounding the robot during use, as any barrier might affect the robot's movement.
In order to move the robot, lift the body of the robot with both hands.
When using the movement function, please place the robot on a flat floor or surface to prevent it from falling down and getting damaged.
While operating the robot, do not attempt to move its joints. Doing so could result in injury to you or damage to the robot.
Do not subject this product to mechanical shock (i.e. do not drop the robot)
Do not leave the product or the battery where it will be exposed to a heat source, fire, or temperatures over 40°C/104°F.
Do not immerse the product in water or any liquid to prevent short circuiting.
Please use the original OEM charger. Do not use any other brand charger.
When using the charger, be sure your hands are dry and hold the plug of the power cord to unplug it. Do not pull the cord. If the cable is broken or the outer plastic sheath is stripped off, stop using the charger immediately.
Please wipe the robot with a soft cloth moistened with diluted alcohol. Do not rinse the robot with water or clean it with detergents of strong acid and strong base, as these might cause damage on the coating of the product.
Do not attempt to replace the battery. If you need to change the battery, please send the product to the original equipment manufacturer.
If you need to leave the robot for a long time, please turn off the main power at the top of the head. Store the product in a cool, dry place. To prevent the battery from being overdischarged, please charge it at least once every three months.
As common practice with any computer, tablet, or other screen usage, it is recommended that children take a 10-minute break after every 30 minutes of use and that daily use not exceed one hour per day. Excessive screen time may result in damage to the eyes. This product is not intended for use with children under 2 years of age.
This product is suitable to be used safely in tropical climate areas.